AZ Rivierenland
renovation of existing maternity & delivery area into a pain centre & nursing ward
project characteristics
Rivierenland General Hospital is undertaking a thorough renovation of its campus in Rumst. The site will acquire a new entrance hall and a new day hospital for general medicine and oncology. The gastrointestinal diseases, kidney dialysis, pneumocardial rehabilitation, pneumology, urology, physical rehabilitation and safe load handling training services are to be expanded. The first phase – the creation of a comfortable pain centre – has already been completed.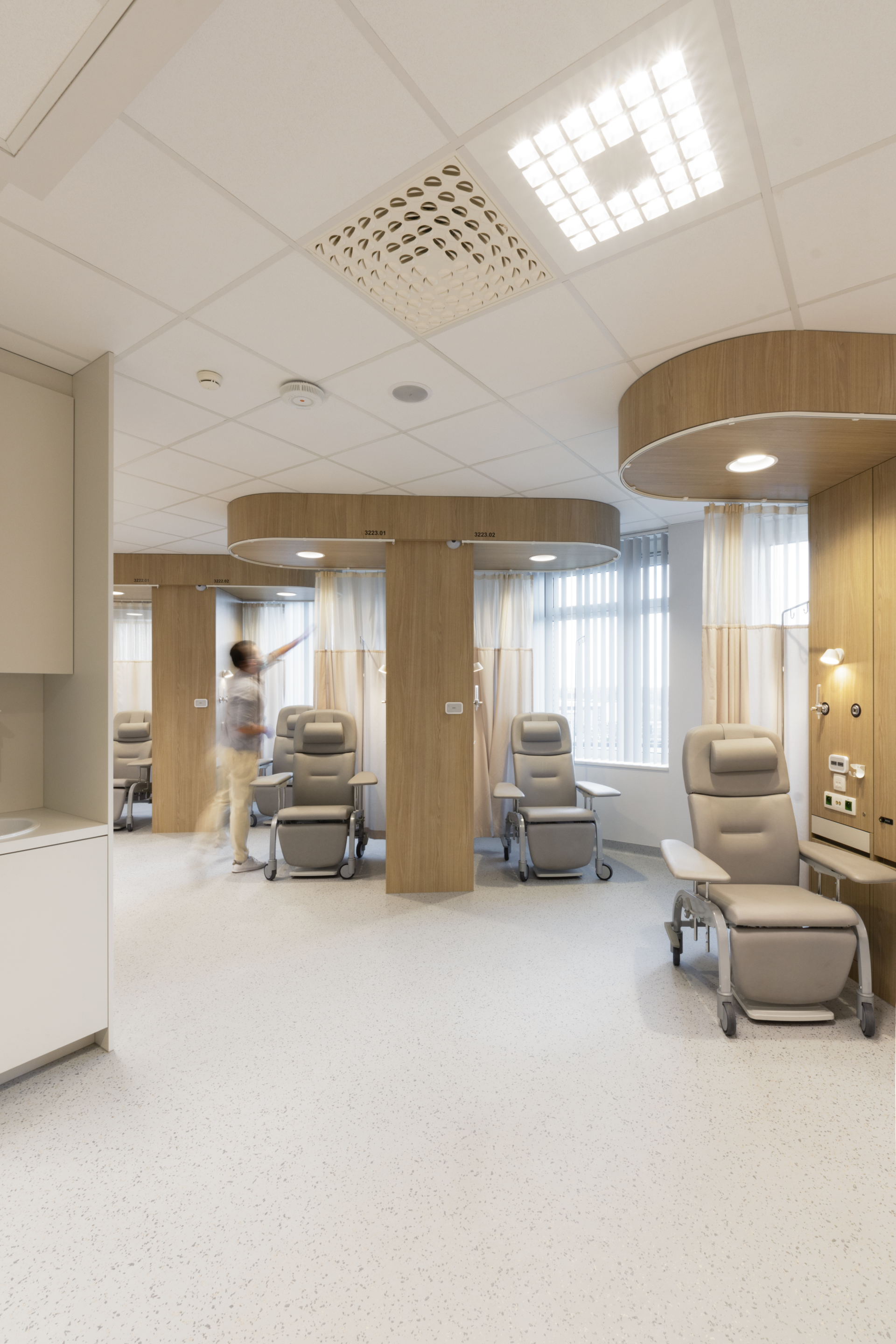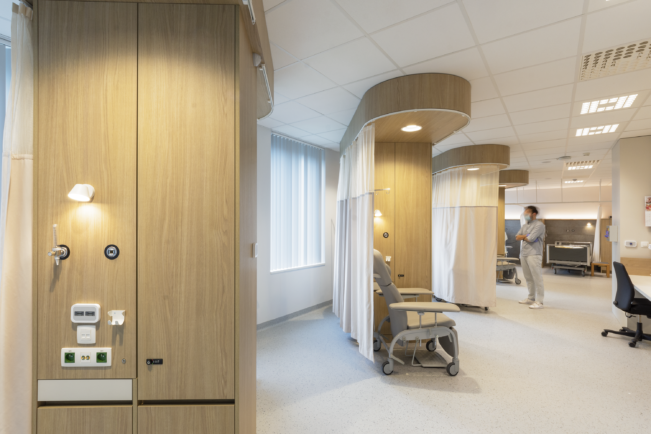 program
renovation of existing maternity & delivery area into a pain centre & nursing ward
client
AZ Rivierenland
address
s' Herenbaan 172 • 2840 Rumst (Reet)
building type
heal
status
completed
expertises

architecture

interior architecture

urban design & planning

project management

feasibility studies

programming

offices

antwerp

team
• technical engineering: Botec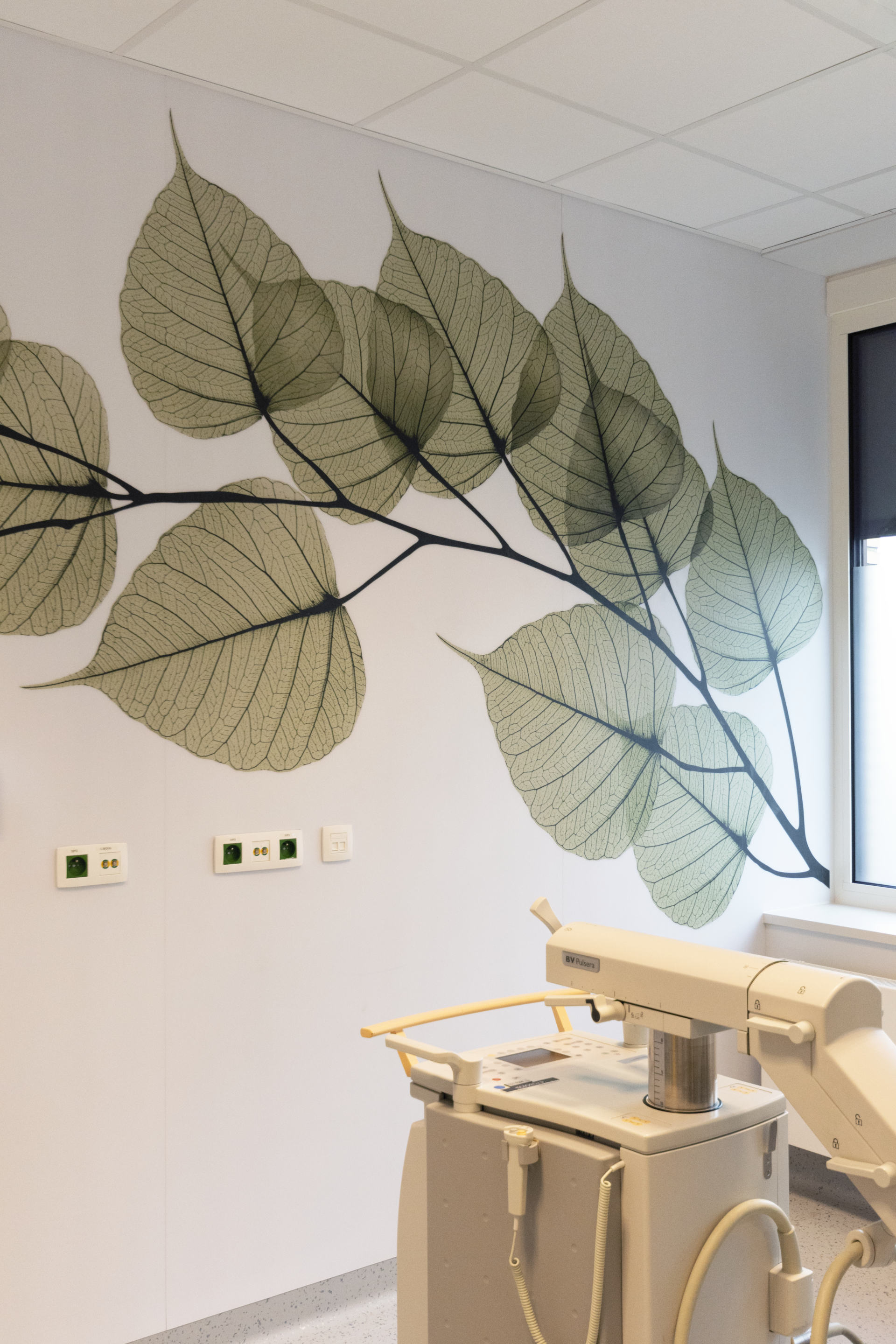 healing environment
The new pain centre is designed according to healing environment principles. This means that full account has been taken of environmental factors that can have a positive impact on patients' healing process. In practice this means plenty of open views, as much daylight as possible, the use of natural or naturallooking materials and the minimisation of disturbing noises. AZ Rivierenland has sought in this way to create the atmosphere and appearance of a relaxing hotel.
inspiration
For the design, AZ Rivierenland approached assar, which had previously designed the Drie Eiken Care Hotel in Edegem. This convalescence facility was the first in Flanders to combine care with the comfort and hospitality of a hotel. assar elaborated on this concept in the pain centre. All areas and rooms here are furnished with new technical aids, which have been made more or less invisible by the homely design, thus avoiding a sterile look. The new nursing ward is also being approached in the same way. In an atmospheric setting, patients feel good, making them less susceptible to negative emotions, fear and stress. This can help ensure a more relaxed examination and a quicker recovery. Moreover, the care staff feel more relaxed in such a setting, which enhances the quality of care.
improved energy efficiency
The pain centre is located on the third floor, and has a floor space of almost 380 m². A delivery area used to be housed here, which has now been combined with that on the Bornem campus. The structure of the building in Rumst was still in excellent condition, so we made virtually no changes to the exterior, although we replaced the existing aluminium exterior joinery with new joinery, including better thermal insulation and double solar-control glazing. This will save the hospital energy on both heating and cooling.
We also removed most of the existing, non-load-bearing interior walls, so that we could redesign the space between the loadbearing columns in a more open manner. We thus abandoned the traditional room design, opting instead to organise the pain centre in modules – such as seating areas reminiscent of a hotel lounge. The arrangement of the furniture allows patients to choose whether to be sociable or maintain privacy. A waiting zone with a coffee corner is located near the reception desk.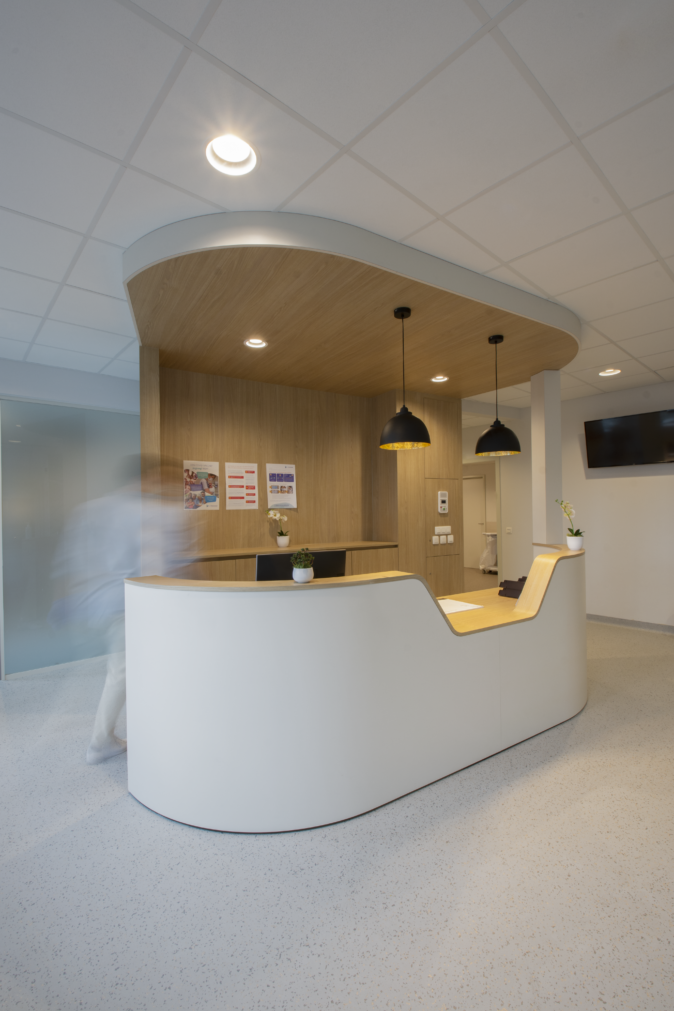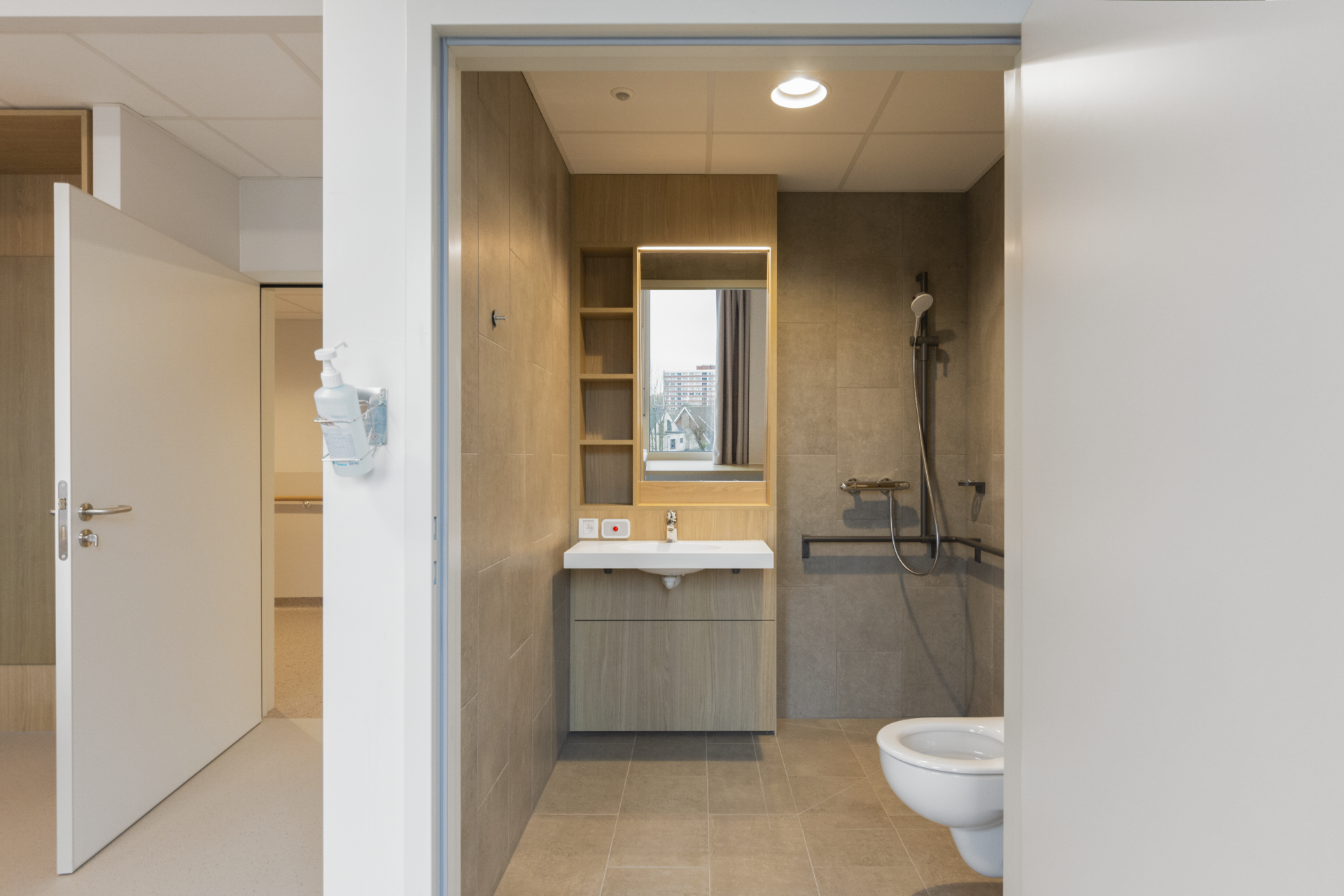 maximum natural light
There is now space for twelve people on recliners and three in beds. There is also some space left for further expansion. Each module can contain two recliners. In an emergency, a bed can also be set up. Each recliner is equipped with a retractable tablet, a power socket (for charging a mobile phone or laptop), a reading lamp, a cloakroom cupboard, and a nurse call. Curtains ensure that patients can get changed in complete privacy. As a result, the treatment area is left as an open space with maximum illumination from natural light. The modules are made of laminate-covered wood, adding to the homely atmosphere. The windows are fitted with blinds. The curtains in the windows are made of an elegant fabric and are not in a plain hospital colour.
inclusive architecture
In the 28 m² endoscopy room, where examinations take place, a PVC wall covering has been used with sober prints with a natural motif. PVC is a very tough material – an important characteristic, because beds and trolleys are constantly being moved around here. The walls are lined with lead to shield against any harmful scatter radiation from the equipment. The PVC floor is anti-static and the lead sliding door opens and closes contactlessly. In this way we have aimed for architecture whose form is inspiring and evolving and that in practical terms is accessible to all. In other words, inclusive architecture.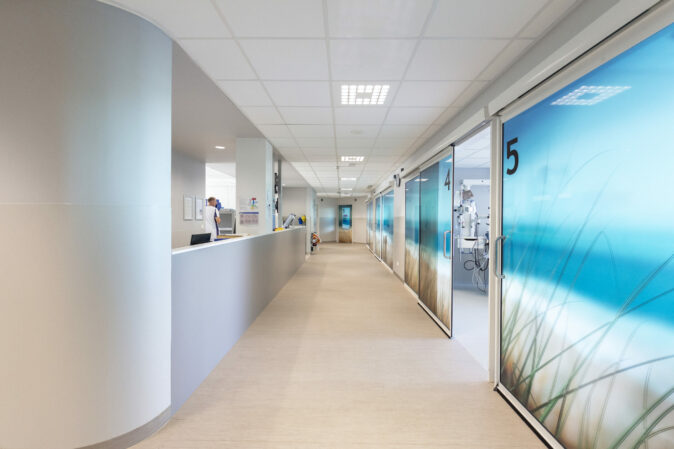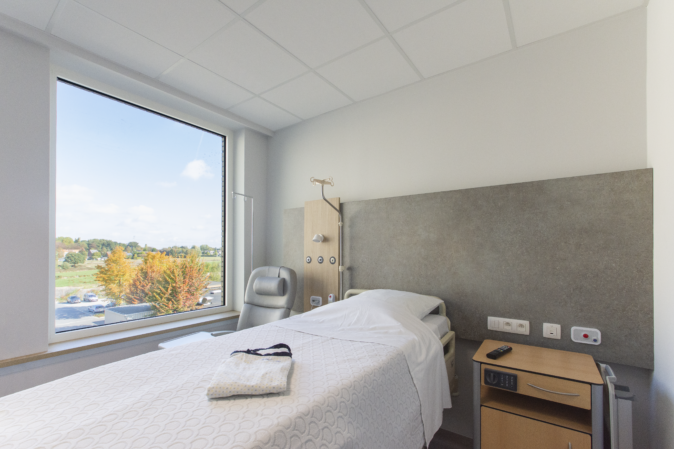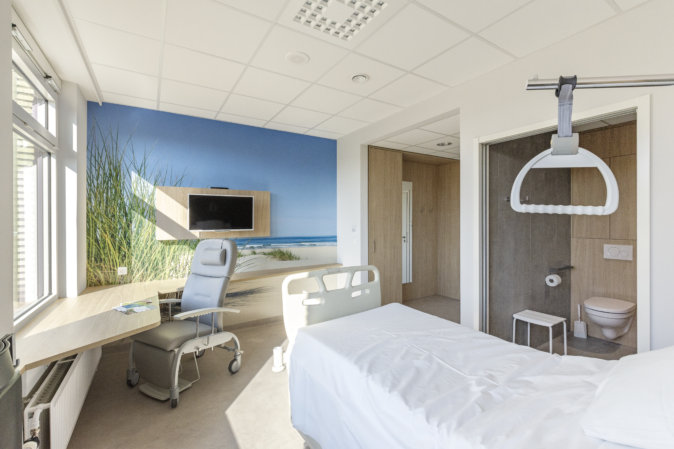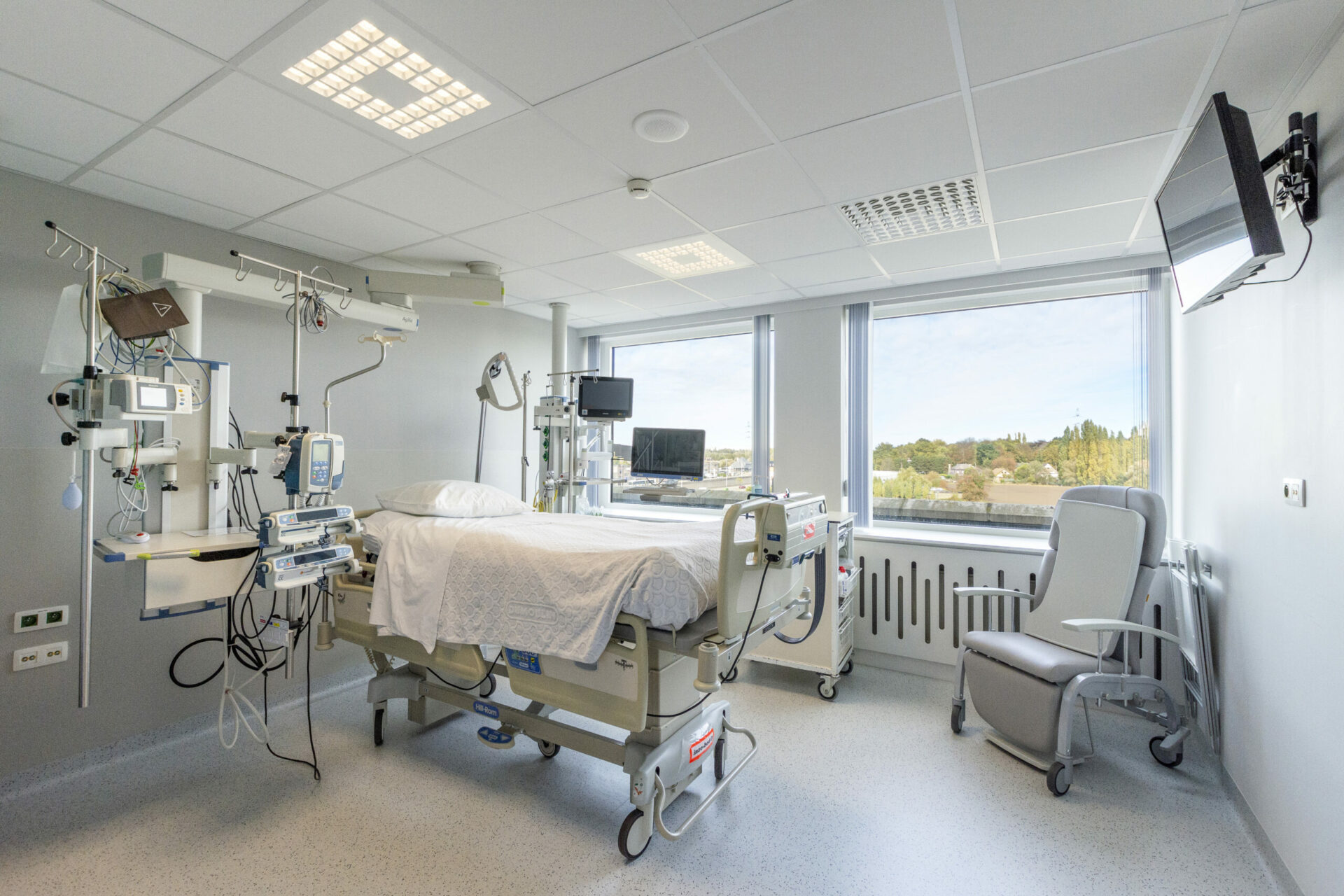 nursing ward
The adjacent nursing ward, with its rooms and nursing station with medication and utilities room, is a classic design. Here too, though, we have opted for a finish in light wood patterns and prints with images from nature, creating a warm atmosphere. The window-sills are deep, so that they can also be used as eating surfaces. The ward has seven single rooms, seven double rooms, two isolation rooms and a room for palliative care. A sliding door leads from this last room into a small lounge where friends and family members can be received comfortably. All these rooms have a dressing cupboard with fridge and safe and a bathroom unit with shower, toilet and sink. The double rooms have two sinks.
future-oriented technical equipment
Conversion work in a hospital requires the utmost consideration for staff and patients present, in order to minimise the inconvenience that such work inevitably entails. All switchovers and down time needed to connect existing technical facilities with the new ones were therefore organised in close consultation, both internally between the different departments and between the client and the construction team.
Pain is a complex phenomenon in which psychological factors can play a role as well as physical ones. This means that a pleasant interior climate is extremely important, so it was essential to keep any heat sources in the new ward under control. After the outer walls had been insulated and new windows fitted, all windows were therefore equipped with new screen sun blinds. Like their predecessors, these are controlled centrally.
To achieve the desired interior climate even in extreme summers – which are increasingly regarded as normal – Botec also opted for top cooling of the ward, with cooled air being blow in through the hygiene ventilation system. For this purpose, a new air handling unit, with cooling battery, was set up on the flat roof. The addition of the latest generation of LED lighting fixtures to the existing lighting control system plus the expansion of the existing nurse call system and the medical gas network have made the ward completely future-ready.