PWC campus
how a twelve-storey level "campus" building offers multiple modes of access to sustainable workspaces that are organised on terraces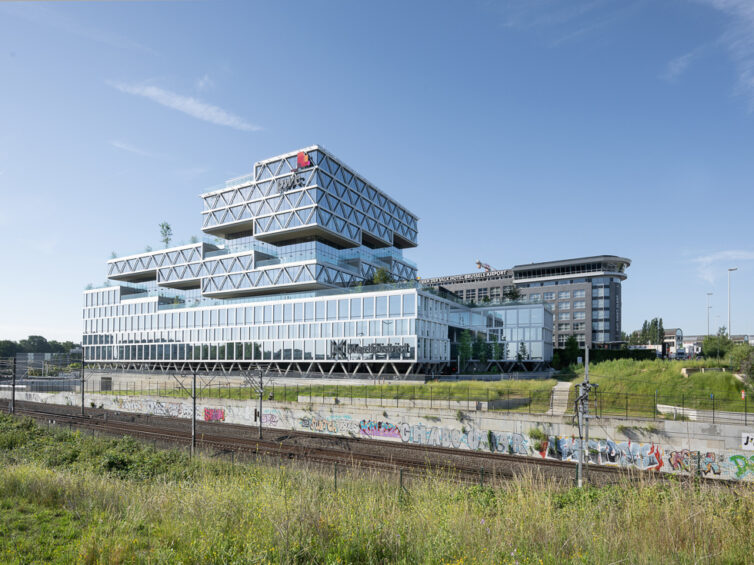 At the beginning of 2022 the international accounting and tax consultancy PwC has moved to a brand-new head office in a complex developed by Ghelamco. Destination: Cullinganlaan, in Diegem, next to the hotel Van Der Valk and in the immediate vicinity of Brussels airport. PwC Campus, as this building is already named, accommodates some 30.000 m² of workspace, on 11 floors, and a multitude of green terraces.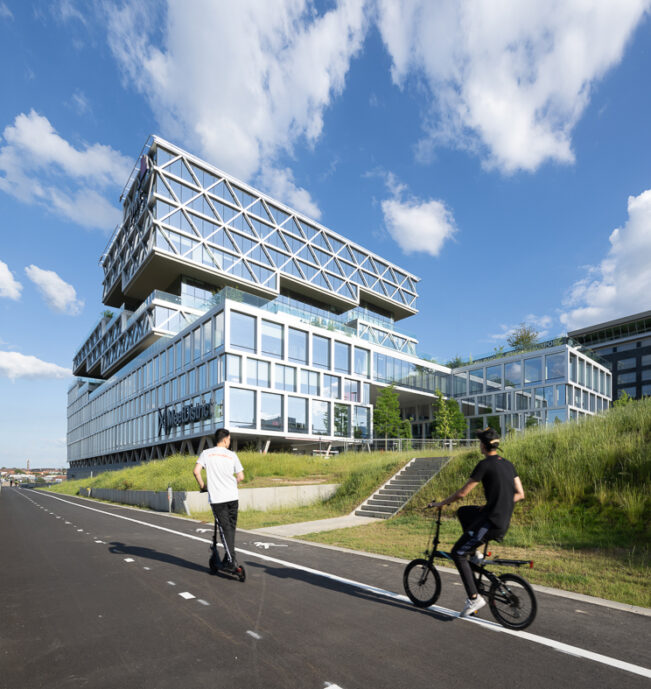 program
construction of a new office building for PwC
client
Ghelamco Invest nv
address
culliganlaan 5, 1831 Diegem Belgium
building type
work
status
completed
expertises

architecture

b.i.m

programming

offices

antwerp

size
51.786 m²
team
client: Ghelamco Invest nv
general contractors: Aertssen & Verheyden + Soiltech
structural engineer: BM engineering
building services: BM engineering
landscape: Urban landscape
geometer: Teugels
breeam: Encon
acoustic: Scala
control: Seco
health & safety coordinator: 2B-Safe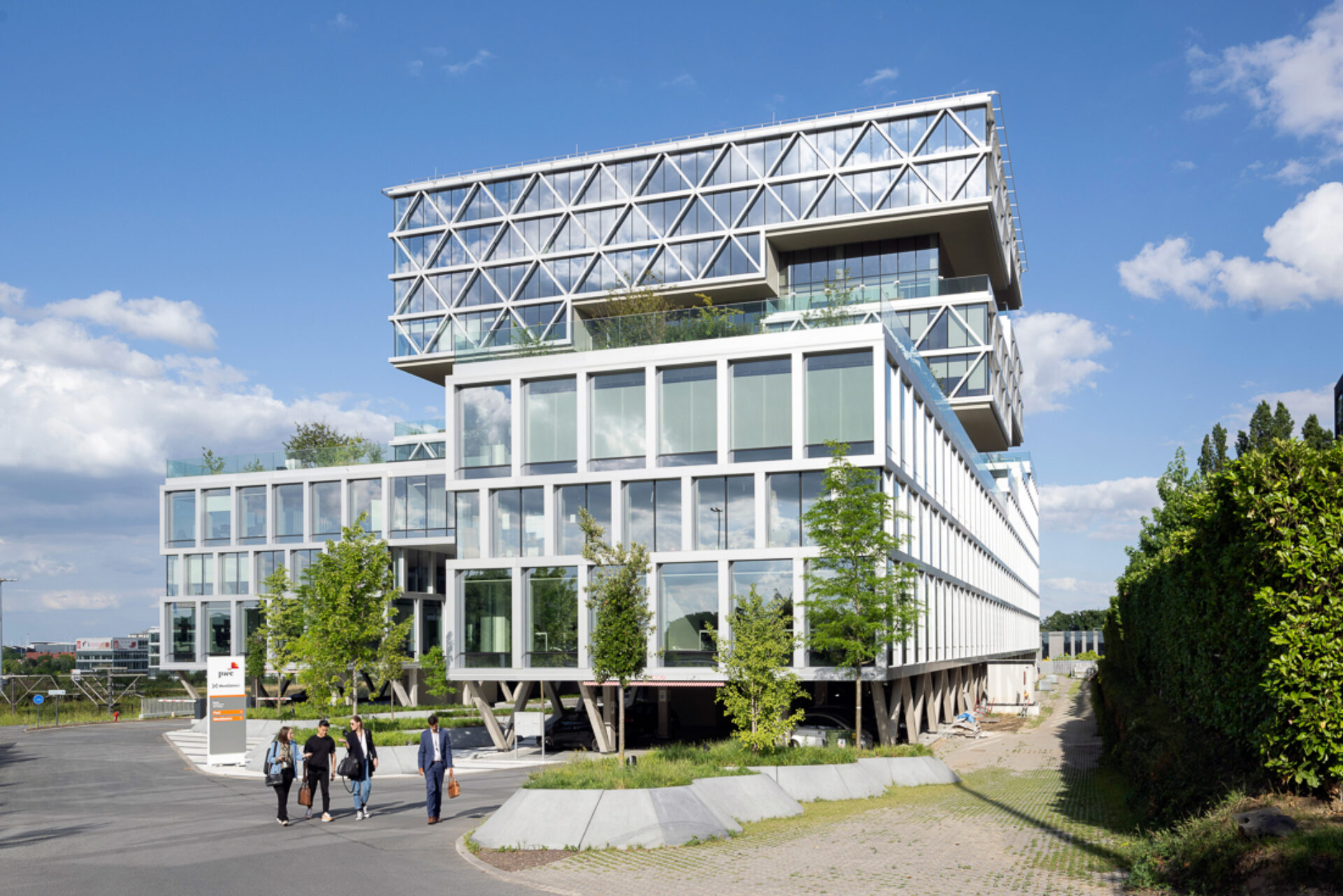 "The building shell is progressing at an accelerated rate" confirms designer Dieter Wuyts of assar architects, who designed the architecture. "The intention here is to create the office building of the future. A dynamic work environment, where interaction between people is maximised, while keeping a watchful eye upon their comfort
and well-being."
stimulating mobility
Mobility plays an increasingly important role in choice of location. In the case of PwC, accessibility was also an important motivation. The site is located at the end of Cullinganlaan, a cul-de-sac running parallel with the A201. There is immediate access onto the Brussels ring road, Diegem station is accessible on foot, and, in 2022 the tram from the airport will stop outside the front door. Furthermore, a cycle highway is currently being created adjacent to the site.
"The site location, close to the airport, is a deliberate choice, explains Dieter Wuyts. "PwC carried out a survey in advance, with its own employees. This showed that people preferred not to work in the centre of Brussels, due to significant problems with mobility. The design should therefore be completely adapted to the model of diffuse traffic distribution. For example, the site will have seven hundred parking spaces, accessible via a well-thought-out traffic plan, and providing an efficient link with the Brussels ring road. Numerous loops structure the arrival and departure of cars. One loop, for example passes in front of a park & ride, while another runs around the building in the direction of an underground, four-level carpark. In addition, we have ensured that the car part is also directly linked to the cycle highway."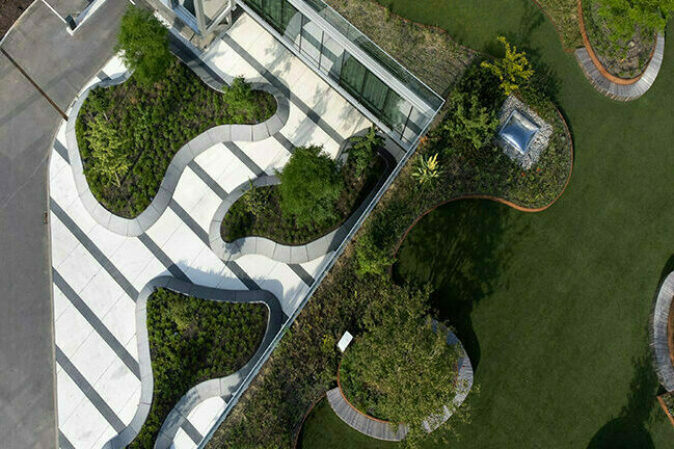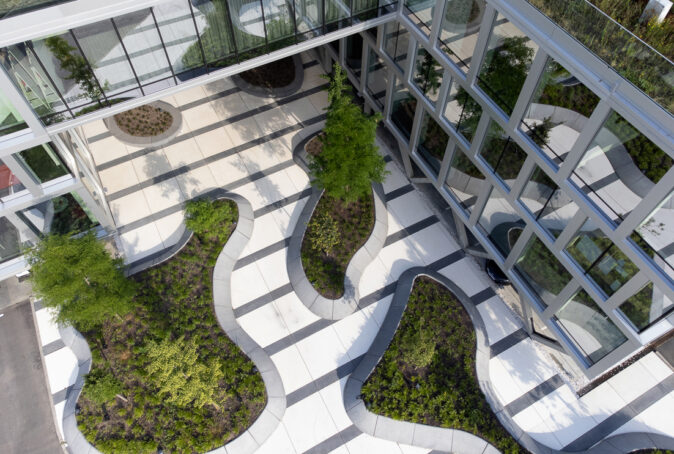 stairway shape, sinuous terraces
Sustainable materials have been used for the construction to reduce the company's ecological footprint: concrete, glass, and aluminium. The building resembles a pile of rectangular shapes that have been slid in relation to each other, creating a step formation.
Fundamentally, it is formed of three parts. Two volumes in beam formation, linked by bridges in glass, creating two patios. A deeper part, which is made exclusively of glass. And a tower with recessed, continuous terraces, where the offices are located.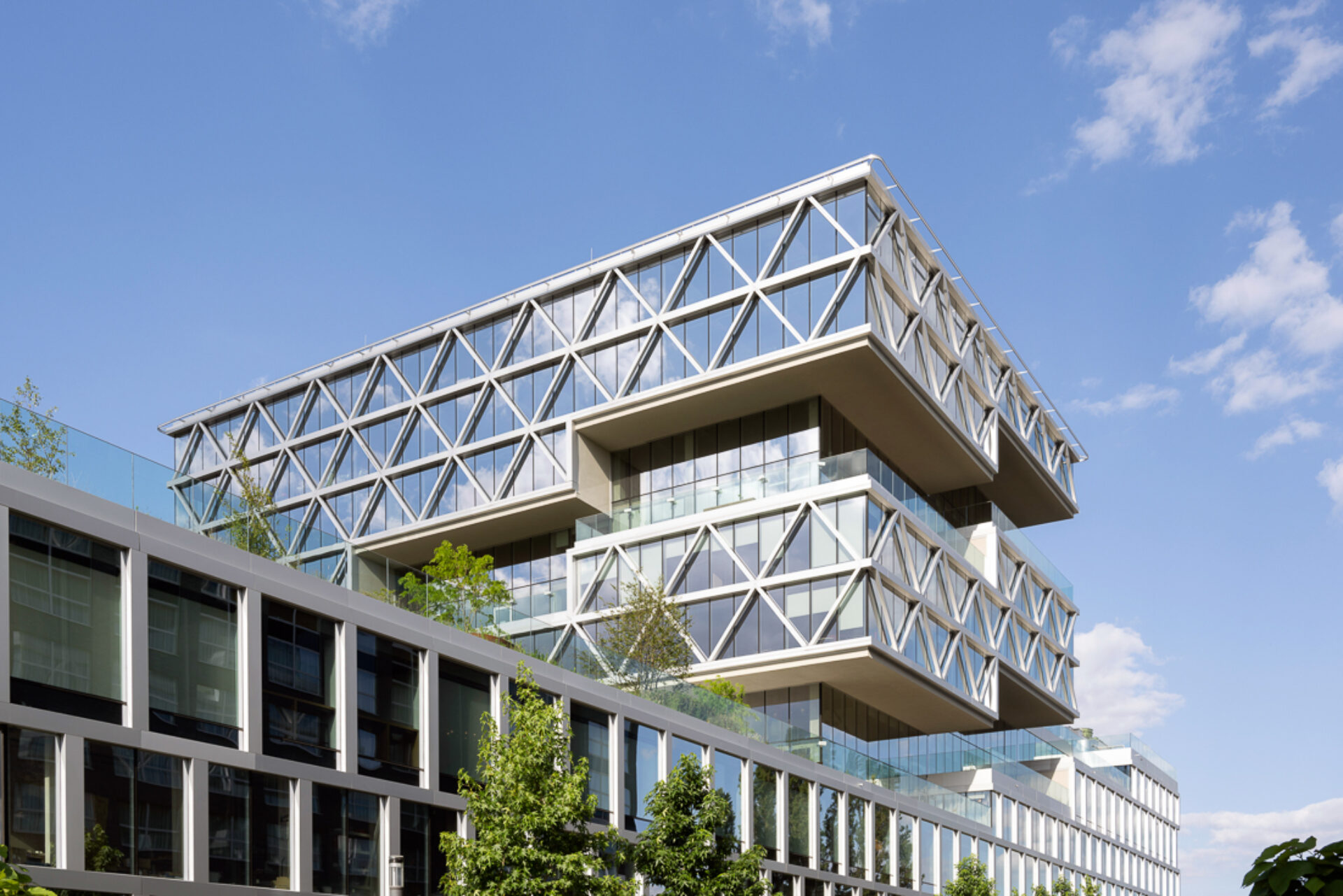 "The volumetrics of the building provide a response to the various attendant restrictions", explains Dieter Wuyts. "The height, for example, is determined according to the airport runways. The finish on the front, in turn, respects the skybox view from the hotel Van Der Valk. The play of the volumes also enables
the creation of space for large external spaces.
There are green terraces on all levels, which compensate for the lack of greenery at the site and create an internal ecosystem. After all, the building and approach road occupy almost the entirety of the site's net building area. In addition, the plot is on a slight inclination, which explains the height difference of approximately ten metres between the front and rear."
In total, the campus has a usable area of over 30.000 m² above ground, and just under 22.000 m² below ground. 4.000 m² of terraces have also been incorporated.
While the entrance is clearly indicated at the front of the site, the building does not have a 'front' or 'rear' façade in absolute terms. "As well as optimised mobility, a high level of visibility was a crucial requirement. The complex should express the same strength, regardless of the point from which it is approached, hence the very clearly articulated character of the architecture on all its façades. This is a bar volume which grows systematically and seems to be in motion as it gains in height. From the fourth floor, we have begun to make a much stronger play with the terraces. The higher up, the more compact the building becomes. Finally, a small part of the tower springs out on the top floor, flanked by a gigantic green terrace."
green ecosystem
As its principal resident, PwC has over 22.000 m², while the remaining 7.700 m² are occupied by MeetDistrict, an innovative co-working space put in place by Ghelamco as a professional village.
Dieter Wuyts: "The intention was to create a sustainable office building, firmly focused on the future. As well as mobility, the quality of the workplace as at the centre of our considerations. Our way of life is constantly evolving, including how colleagues and clients work together. The use of the building facilitates an animated, and interactive atmosphere, which expresses the ambition and sense of innovation that prevails within PwC. The flexible spaces are grouped around a wide range of convenient facilities.
We have worked to maximise the experience, and the quality of day to day working.
The views have a major role, as do the external green spaces. There is a lot of glass to provide the maximum amount of natural light. Everyone can go outside at any time, while the different zones have been adapted to different ways of working. The building should be capable of offering considerably more than a traditional office building."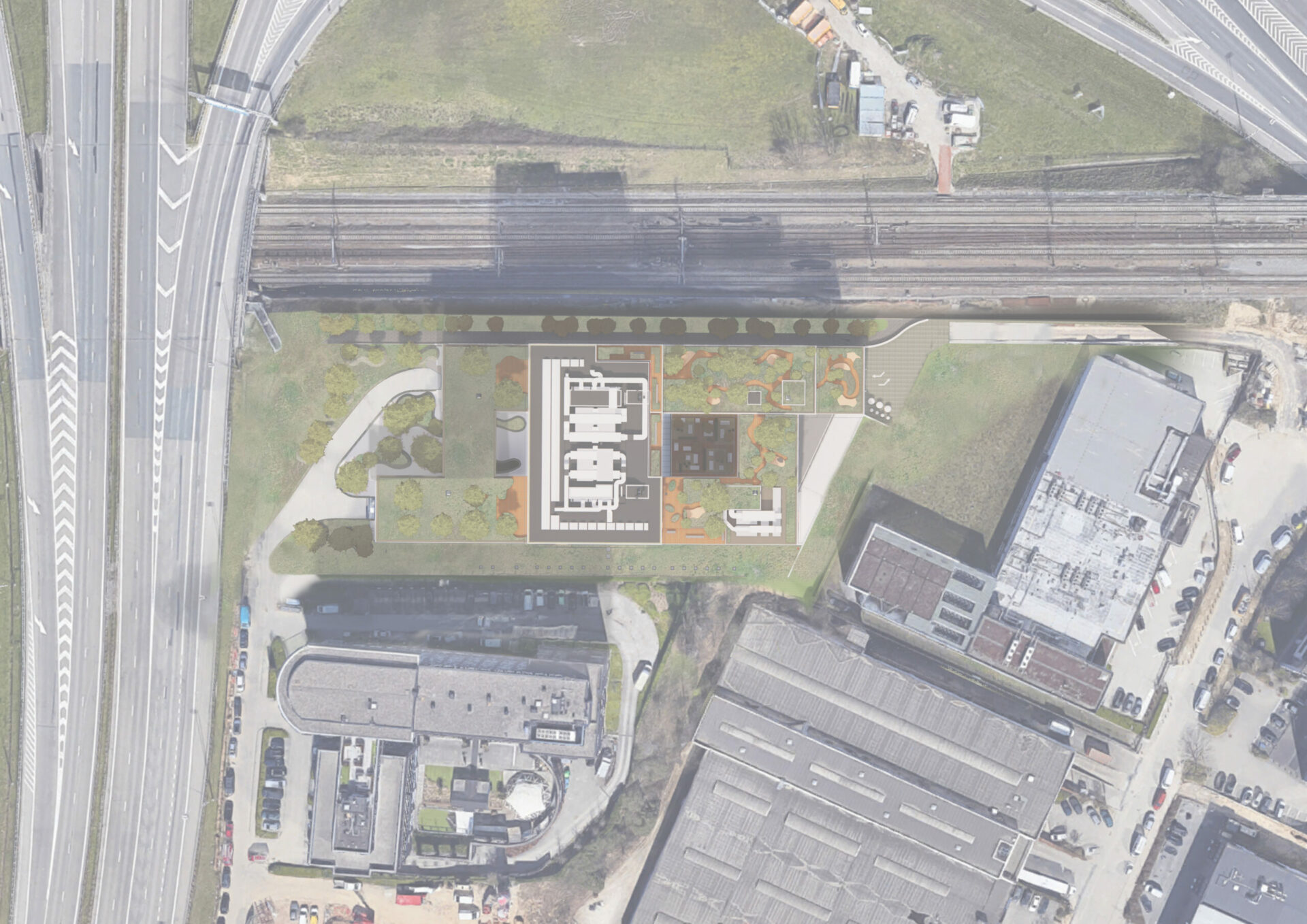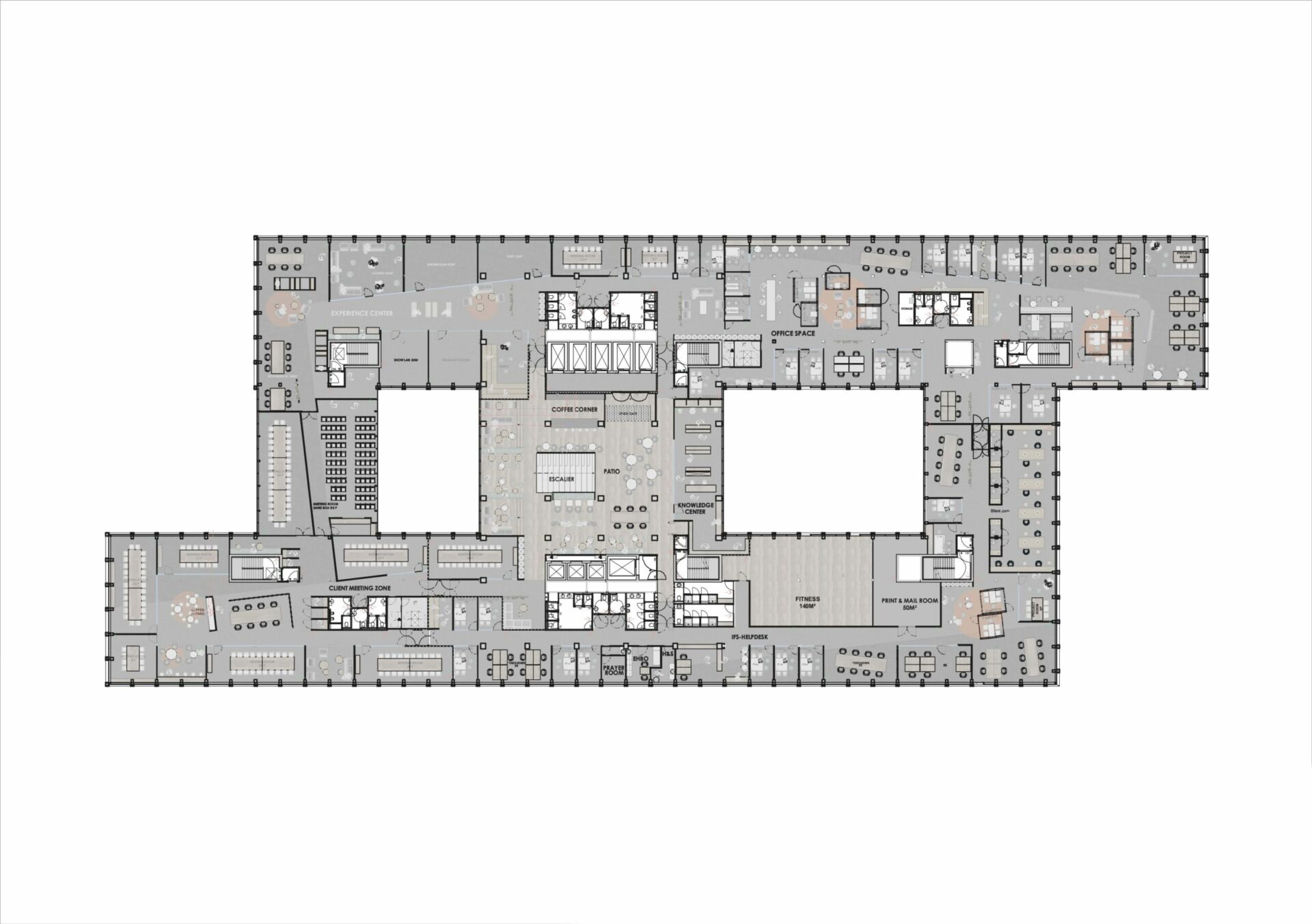 level 3                                                                                                                                                                                 level 5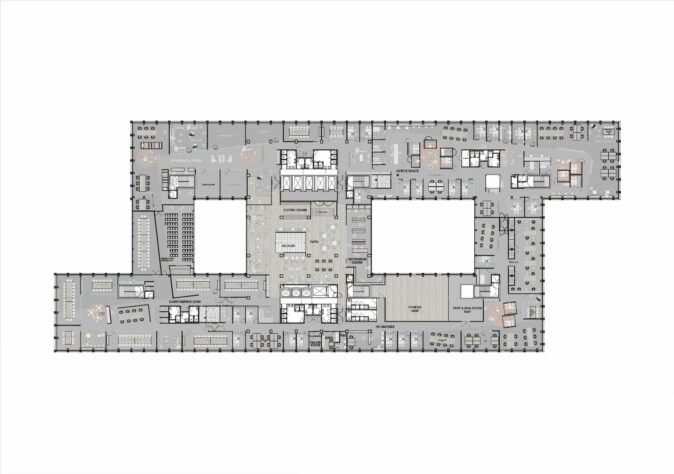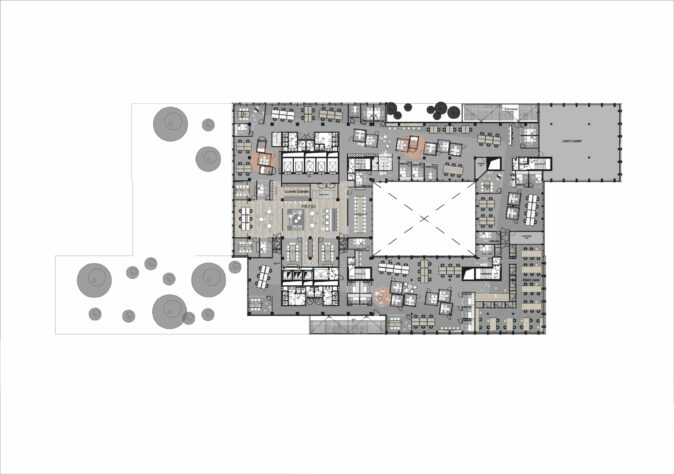 level 7                                                                                                                                                                                      level 10